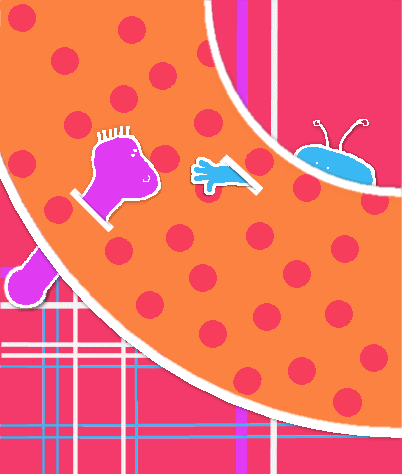 What could be more different than the right and left brains.

For this week's
Illustration Friday
, theme "opposites," I was going to make an illustration of two idiots, each on two ends of a string – a straight line…yelling at each other…probably about which end is the beginning…it started here! no, it started here! I was maybe going to include a short essay taking off on the fact that root of 'opposite' is oppose.


Oppose: A verb…to oppose; to attempt to stop the progression of; to object to…



But that got me to thinking about our western culture. We depend more and more on binary, simplistic thinking. Everything's about taking the shortest route. And of course, the shortest distance between two points is a straight line. Linear thinking. It's going to be the death of us.

Either / Or
Off / On
Black / White
Good / Bad
True / False
Night / Day

Consider our planet – a sphere, made from an infinite number of
circles
. Our planet's very existence implies an infinite number of paths, journeys…ideas. Our spherical world doesn't work in a linear fashion. We are not traveling in a straight line. We rotate and we revolve, visiting and revisiting the same points over, and over again. One could even say recycling the same moments each year. A red leaf, a blanket of frost, a crocus...

We are presented a limitless number of chances to learn, understand, and appreciate…to apologize…to get it right.