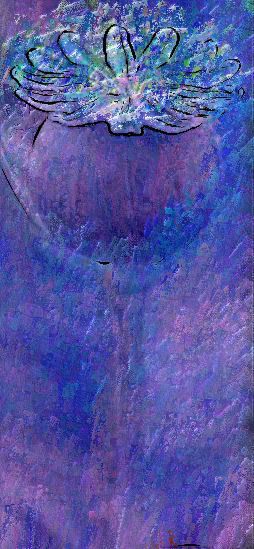 There are almost a hundred different species of Poppy, but the variety used to make opium is the same one we use in our food:
Papaver somniferum.
Don't worry. The DEA won't be knocking on your kitchen door. It's not the chefs they're after. It's the gardeners. While possession of poppy seeds is not illegal, cultivating them is. (So I'm wondering why they're sold in
gardening catalogues
all over the country?)


My garden, like thousands of others across America, has dozens of gorgeous poppies sharing sunlight with cosmos, echinacea, daisies, and every other leggy, lacy plant that feels like hanging around. If I'm not shipped off to GITMO for
supporting our troops,
I'll probably be arrested for my hot pink breadseed poppies!

Lemon Poppy-Seed Cake
6 tablespoons unsalted butter
1/4 cup granulated sugar
4 egg yolks
1 1/4 cups cake flour
1 1/2 teaspoons baking powder
1/8 teaspoon salt
1/4 cup poppy seeds
1/3 cup milk
2 teaspoons grated lemon peel
2 tablespoons lemon juice
1/2 teaspoon vanilla
1/2 teaspoon lemon extract

1. Cream butter in bowl.
2. Gradually beat in sugar until light and fluffy.
3. Beat egg yolks in separate bowl until light and lemon colored;
4. Blend yolks thoroughly into butter mixture.
5. Sift together flour, baking powder and salt. Add poppy seeds.
6. Add flour mixture to butter mixture alternately with milk, blending well.
7. Beat in lemon peel, lemon juice, vanilla and lemon extract.

8. Pour batter into well-buttered, lightly floured bread loaf pan.
9. Bake in a preheated 350-degree oven 40 minutes, or until loaf pulls away from sides of pan and tester comes out clean.
10. Let cool on rack.


[ By the way, if you're subject to drug tests, you should avoid eating Poppy seeds. As little as 1/4 tsp of poppy seeds is enough to make you test positive. And many, many employers...especially those prospective employers...won't bother to rule out poppy seeds unless you take them to court. The problem is...prospective employers probably won't tell you why you didn't make the cut. ]