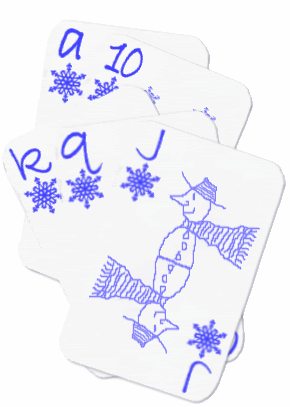 I was walking down SW Higgins, and noticed that the Senior Center is having Pinochle Night. Damn, but I miss Pinochle. I'm still too young to join the seniors, and folks my age are busy cruising the chatrooms or watching CSI.

I miss the sound of people chatting over the kitchen table. I miss the power going out at least once a week, and mom heating coffee over a candle flame.

Growing up military, everybody's parents played Pinochle. It was the poor man's Bridge. They played partnership when men were home, and
cutthroat
when they were gone. And if the power went out, that didn't matter. They'd play Pinochle by candlelight.

Pinochle for our parents always included refreshments. The table was always crowded with victory mugs, open beer cans, cigarette packs, Zippos, and ashtrays. Back in the day, everybody smoked. Cigarettes were practically free to GIs. I can still see them all talking with cigarettes in their mouths, squinting against the smoke burning their eyes!

My dad used to smoke 4 packs of Pall Malls a day, and my mother, 3. I can't remember a single adult who didn't smoke at least 2 ½.

Remember when ashtrays were a part of the décor? Ceramic, ironstone, and glass…and some even of crystal. There was at least one in every room. I remember some butt ugly ones carved and polished from granite and marble. Some even had matching lighters. I think they came from Italy. Very, very large. Of course, no one actually soiled them with cigarette tar and ashes. They were just for saying, I was stationed at or near Italy.

And you could pretty much tell which family'd been stationed where. People who'd been to Germany always had an over-carved, Black Forest cuckoo clock. People who'd been to Turkey had the requisite, decoratively engraved, matching ensemble of brass bells, brass decanters, brass ashtrays, and brass end tables. And people who'd been to Japan had geisha dolls and silk lampshades – pagoda shaped, of course. (These are the days before Japan started dominating the electronics market.)

And every house on base had a hideous, gigantic wooden fork and spoon hanging on its dining room wall. I don't know where they came from. We had to be the only Air Force family in 50 states that didn't have the set. Although we did have an obscenely large wooden bowl my mom served salad in, with its own too-large wooden fork and spoon. And yes, I think they matched the set hanging on those other walls!