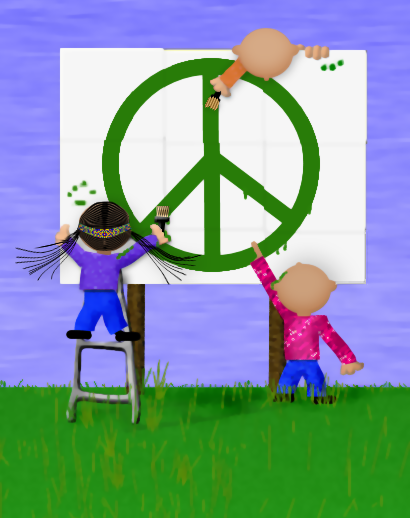 Once upon a time, there was a peaceful village in a beautiful valley surrounded by green grassy hills, and the people who lived in the valley were happy.

Then one day, the evil bastards at US-West built a giant ugly billboard, the size of a 3 story building just cuz they could. "It's private land and we have rights. So go on about your daily business while we bounce microwaves at ya."

So, when the evil bastards weren't looking, the people from the peaceful village gathered a hundred gallons of paint, some brushes, some ladders, and some rope. And they trekked up the hill. And with their ladders, they climbed the evil, ugly microwave reflector, carrying their paint and brushes with them.
It took many, many hours, but they finished finally, and with their paint they made the reflector beautiful, and on it was a message for all the people of the valley.
17December2011: An image of the T-shirt I refer to in the comment section is now found
here.