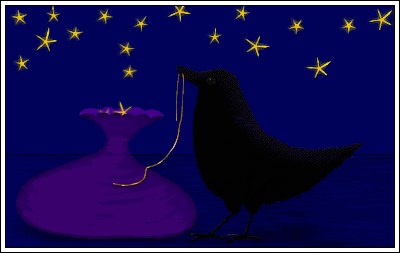 It was the raven who gave us stars. He stole them from a village next to a large river that ran from the mountains to the sea.

He made himself into a small pine needle, and dropped from a tree into a drinking cup. The village chief had a daughter who was drinking tea from that cup. And she swallowed the pine needle with her tea.

Once inside the chief's daughter, the raven changed from a pine needle to a baby. He was born soon after, and he was the chief's favorite grandson. The chief could deny him nothing.

The stars were highly prized by the villagers, and it was the chief's duty to guard them. They were held in a soft bag made from the belly of a white tail deer. The chief's daughter coloured the bag with blackberries so that the light from the stars would not shine through. But the raven was not fooled.

He cried for the bag. And at first his grandfather said, no. But the raven child made large tears to run down his beautiful face, and in the end the chief could not deny him. He gave him the soft bag to play with.

Just as soon as the grandfather gave him the bag, the raven pulled on the sash and let loose the stars. They poured upwards into the sky and spread all across, millions and millions till the bag was empty, and light was now sprinkling down from above.
[click image to enlarge]