Wonderful was this day for the mission,
spring in the city - sunny and clear.
Fully inflated squadrons of roundbirds,
tethered together, drawing us near.

All of a sudden, one of the birdies
broke from formation leaving his peers.
Hellbent for leather, turning in spirals,
bravely the maverick shot into gear.

Corkscrewing contrails, powered by flatus
thundering forcefully straight from his rear,
thrust daring Chrysippus into the wildest,
into the bluest, yon stratosphere.

Escaping Earth's gravity, bouncing off satellites,
blowing past asteroids, showing no fear,
Destiny calling, heaven-bound Chrysippus
hurtled towards his final frontier.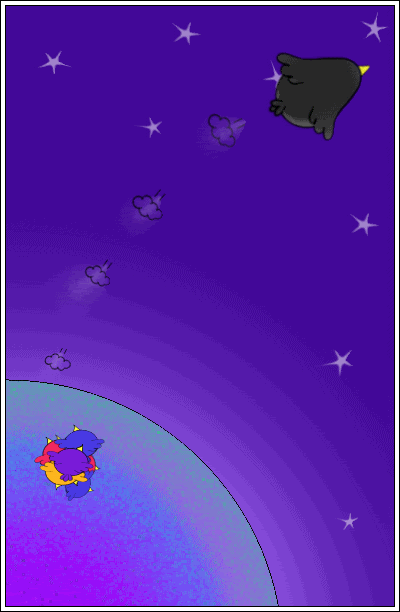 - - - -
an alternative wimpy ending (this would need a final verse to follow the rubbery-fluttered one I've written here):

Fuel nearly spent, now totally breathless,
reaching the zenith of his career,
rubbery fluttered, Chrysippus wondered,
"What in the hell am I doing here?"
A shout out and thank you for TenaciousK. Your teasing remarks early on are what inspired me to find new adventures for
roundbirds
, Chrysippus Crow and Circular Joe.