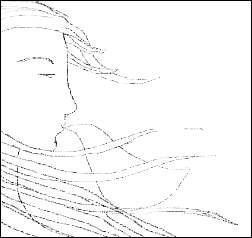 I wrote a hokey poem a few years ago. It wasn't long after my husband had died. I realized that the reason some of us cling to the idea of
life after death
is not because we're afraid of dying, but that we can't tolerate the notion that we'll never again see loved ones who've passed before us.
Even now, I hope like hell that my husband's spirit is intact. An entity made of his karma, his memories, his energy, his ki
気 . I want like hell to join him when I die. But the intellect in me is doubtful. The intellect in me realizes that we're not a collection of disparate entities, but that we're all parts of a whole. Something I've called 'pudding' when describing it to anyone who'll listen.
When we dip our spoons into a shared bowl of pudding, we don't see its ingredients, let alone the subatomic particles making them. We see one homogenous blend of creamy and sweet.
But if we were small enough…waaaaay smaller than sugar crystals, and moles of lactose, smaller than even the subatomic particles making their carbon and calcium atoms...there'd be miles and miles, millions of miles of space between even the quarks and neutrinos. They would seem like separate entities. Certainly from that size, we wouldn't even be able to tell that they were connected in any way.
I often wonder what our universe looks like from the perspective of someone much larger. Are we part of a tree? A dog? A teakettle? Something we can't even name or fathom? To someone much larger than we, there is no separation between galaxies, let alone continents. And species? Or Plants, Animals, and Minerals? No more so than the creamy goodness dished out in our spoons. These are designations important only to us in our wee, tiny universe. (Did you know that if the earth were as small as even an orange its surface would actually be
smoother
than that of an orange?)
I'm rambling. I know. I guess I'm considering the fact that even if my husband's spirit isn't sitting here with me right now, it doesn't matter. He is still a part of this world, just as we all are, tree or dog, roach or fermented grapes, dead or alive. Energy is neither created nor destroyed. Everything changes, and change is everything.
p.s. When I find the hokey poem, I'm going to add it to this entry. There's parts of the poem I still like, even if the others make me groan.
edited 23jul08 - I have found my hokey poem...at least what must be its latest rewrite, dated april of 2004. And of course, as you can read, it's not a poem at all. It's prose...there's poetry in it...in that it might be regarded as poetic, but it's prose nonetheless:
All My Relations

One early morning I was watching clouds floating across the Missoula valley, drifting apart and reforming, and I thought to myself...that's how it all moves.


Are we ghosts
boxed in eyes and ears
waiting for gods
to cut the tape? Maybe

we're the odd stones
collected and stacked,
till we tumble
back into the path;
or the rain
rushing crimson
through the legs of buffalo,
falling back to the earth
when sparrows weep;
or the spirits who
pass the caterpillar's lips
to whisper
into the mouths
of waiting trees;
or the grasses and
the deer

who lend us their grace, till we pass it on
to hungry beasts
and shiny beetles.

Like clouds in a small valley,
we touch one way
and then another,
never separated.

Never lost.

...2004
~~~~
---
Still editing...I have decided to try this in first-person. I have given it a new entry, and its own illustration:
here