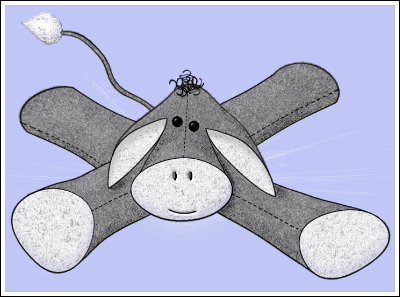 For years, my middle brother Patrick slept with a donkey - a fuzzy, grey animal with mohair bangs and beady plastic eyes.

But after years of love, Donkey's head hung upside down, flopping on his shoulders. His seams had been sewn and re-sewn dozens of times, and the fabric was so fragile that it would tear from the needle. Mom had finally taken to mending him with duct tape. So the Christmas before Patrick turned 5 years old, Mom asked Santa to replace the donkey with one who was identical in all ways, except for the worn patches, the broken neck, and the Nebraska grime.

Donkey was placed under the tree, and some time during the night Santa came and made him brand new.
-*-*-*-
Neither of my parents was what Christians would call "religious." It's not that they were lazy or lapsed...more like agnostic. Both claimed little patience for "the superstitious nature" of religion, but mom (socialized in the Lutheran version) was especially contemptuous, and the religion she saw as the most superstitious was Catholicism. The thing is, Dad was raised in a Catholic Orphanage -- by Nuns. He was still bitter from the years of physical and emotional abuse, so Mom's bigotry didn't really bother him - so much
Given all this, and the potential for conflict, they made a pact. They decided months before I was born that their children would not be baptized in either church. They would let their children decide for themselves. And they stuck to this bargain - till the year Patrick's dying donkey was reborn.
That was the same year Mom caught Dad cheating (an understatement that deserves a chapter of its own.) And in a brilliant stroke of
that'll-teach-ya
, she decided we would be baptized at a Lutheran church in Lincoln.
The First Baptism
The Minister wore a light grey suit, and an unbelievably white shirt. And he told us to call him, 'Reverend.' He asked us questions about Jesus. We knew very little. We knew Christmas was his birthday, and we'd been told that the little china doll in the school crèche was the baby Jesus. That was pretty much it. He asked us if we knew about Original Sin. Did we know about Adam and Eve? Not a clue.
With anger whitening his eyes, and flaming from his ears, he told us right then about the Evil that was Eve...and how if not for Jesus, we'd all be burning in a place called hell,
forever and ever.
The only way to save ourselves was to accept Jesus right there and then, in his office, before mom came back and it was too late. We'd be given a clean slate. We'd be brand new. Reborn.
Patrick, who'd brought Donkey along, asked if he could get baptized, too.
No. And
hell
no. "Beasts don't have souls. They were put here to serve man's needs - as food and beasts of burden."
Patrick said, "If Donkey can't get baptized then I don't wanna get baptized, either." Dwayne and I agreed.
What do you mean animals aren't people?
"But if you refuse, you'll burn in hell. And now it will be worse, because now you have heard the word of God. You are no longer ignorant. You have been offered salvation, and are refusing Jesus! You'll burn in hell."
"But what about Donkey? I don't want him to burn in hell."
"He won't burn in hell. He doesn't have a soul! He'll just die. But you will burn in hell. Forever and ever."
An hour in the reverend's office is forever and ever.

We certainly didn't wanna burn, and if Donkey wasn't gonna burn, we told the reverend we would accept this Jesus guy. So right there and then, we received an emergency baptism just in case we should die before Sunday.
The Second Baptism

That Sunday we sat on wooden benches waiting for the big moment. We were starving. Mom said we couldn't eat till after the baptism. We couldn't play. We couldn't talk. We couldn't stand up. It was hell. Everyone was in greys and numbing pastels. Even the building was grey.
Our school clothes weren't good enough, so Mom had bought Dwayne and Patrick brand new slacks. And made Hugh a white baptism gown trimmed with blue piping so people would know for certain that he was a boy. Lucky Hugh, he got to miss the reverend's lecture. For me, she whipped up a frothy lemon dress with a matching hair ribbon. She bought us all new shoes, black for the boys, and white for me - and got me white gloves, to match. Those gloves saved my life. I spent an hour on that bench taking them off, and putting them back on again.
And the moment wasn't so momentous. Except that Hugh screamed bloody murder when he felt the water on his head.
Finally it was over, and we were leaving the church. As we came down its massive steps, the numbing colours of the day sharpened, focusing onto my father - waiting in the parking lot. Sitting on the hood of our station wagon, he didn't take his eyes off Mom. And he didn't blink. Not once.
Apparently Mom forgot to tell Dad about the baptism. She'd scheduled our interview while Dad was TDY, and I'm guessing she didn't expect him to return till long after the accomplished feat.
The Third Baptism

At this point, a well-written narrative would be building to some kind of climax, looking for resolution...for certainly dad's anger and his decision to use the family car as a murder weapon makes for high drama.
But to be perfectly honest, all I can remember clearly of the drive home is the speedometer - 105mph.
And Patrick crying into his donkey.
So. Should I even include this example of narcissistic abuse? Or should I tighten this narrative to the odd mix of ironies and juxtapositions of Jesus, Patrick's Donkey, resurrection, eternity, and hell?
Donkey was resurrected. We saw it. We saw his love-worn body under the tree Christmas Eve, and the new fluffy one, come Christmas morning.
Donkey was Patrick's beast of burden; his savior; his confidant. He met all Patrick's needs. And through the power of faith, (and the intercession of Santa Claus), he was reborn.
A better writer could
Should I explore the the bible's teachings and how they've shaped a people to see the world as a resource? - a treasure chest, a toolbox? And how as a result Christians have come to view their culture-hero in much the same way? During the week, they dump on him all of their emotional burdens, and then come Sunday they eat his body and drink his blood.
Because for this day, I can find no climax, no resolution. For what could only have been a 20-minute drive, that seemed to last forever and ever, my father terrorized our entire family. He taunted mom with the idea of killing us all by driving our car into a tree. He snidely assured her that, having been freshly baptized, we were all in a state of grace, and would absolutely go to heaven. Would another writer allude to this journey home as a baptism? Yet a third, in one week? Isn't each new trial we survive a rebirth? What washes over us, exactly? Relief?
I know Patrick's tears washed over Donkey.
And suddenly we were pulling into the driveway. We exited the car, and Dad let us into the house. Mom prepared lunch, and we all sat down to eat.
Donkey sat on Patrick's lap.